Georg R Zoidl
Professor
Canada Research Chair Tier IMolecular and Cellular Neuroscience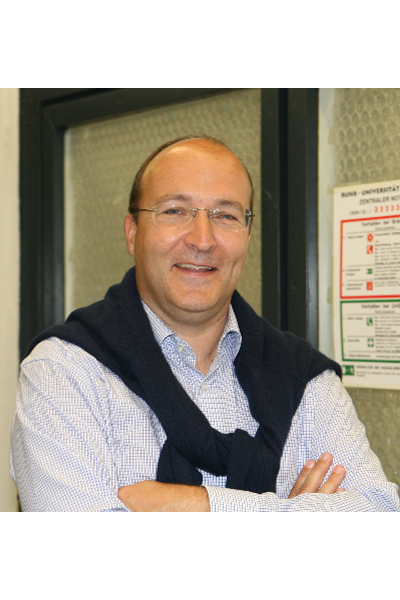 Locations / Contact Info:
323AKeele CampusPhone: 416-736-2100 Ext. 22136
Email address(es):
Faculty & School/Dept.
Faculty of Health - Department of Psychology
Degrees
Master - 1986
University of Cologne
Germany
PhD - 1991
University of Essen
Germany
Privatdozent - 2006
Ruhr University Bochum
Germany
Biography
07/2011-today: Full Professor for Molecular Neuroscience and Canada Research Chair (Tier I), York University, Toronto, Canada

2009-2011: Appointed Member of the International Graduate School for Biology and Biotechnology (IGB), Faculty of Life Sciences, RUB, Germany

2007-2011: Acting Director, Dept. Cytology (Medical Faculty, RUB, Bochum)

10/2007: Promoted to "Akademischer Rat" (Medical Faculty, RUB, Bochum)

2007-2011: Appointed Member of the Bochum Research School

01/2006: "Venia Legendi" (Habilitation) for "Neuroanatomy and Molecular Brain Research"

06/2004: Appointed Member at the International Graduate School for Neuroscience (IGSN), Ruhr-University Bochum, Germany

1997-2011: Group leader (C1): Molecular Brain Research Unit", Medical Faculty, Ruhr-University Bochum (Head of Department: Prof. Dr. med. R. Dermietzel)

1995 - 1997: Senior Research Fellow, Dept. of Anatomy and Developmental
Biology (Group: Prof. Dr. R. Mirsky, Prof. Dr. K.R. Jessen, University College London, London, England)
1990 - 1995: Research Fellow/Postdoc, Neurochemisches Labor, AG Molekulare Neurobiologie, Neurologische Universitätsklinik der Heinrich-Heine-Universität Düsseldorf (Group: Prof. Dr. rer. nat. H.W. Müller)
Selected Publications
2016 (* HQPs Zoidl lab)
1: Siu RC*, Smirnova E, Brown CA*, Zoidl C*, Spray DC, Donaldson LW, Zoidl G. Structural and Functional Consequences of Connexin 36 (Cx36) Interaction with Calmodulin. Front Mol Neurosci. 2016 Nov 18;9:120. PubMed PMID: 27917108; PubMed Central PMCID: PMC5114276.
2: Greb H, Hermann S, Dirks P, Ommen G, Kretschmer V, Schultz K, Zoidl G, Weiler R, Janssen-Bienhold U. Complexity of gap junctions between horizontal cells of the carp retina. Neuroscience. 2017 Jan 6;340:8-22. doi:

10.1016/j.neuroscience.2016.10.044.
3: Smirnova E, Kwan JJ, Siu R*, Gao X, Zoidl G, Demeler B, Saridakis V, Donaldson LW. A new mode of SAM domain mediated oligomerization observed in the CASKIN2 neuronal scaffolding protein. Cell Commun Signal. 2016 Aug 22;14(1):17.
4: Krawczyk M, Ramani M, Dian J, Florez CM, Mylvaganam S, Brien J, Reynolds J, Kapur B, Zoidl G, Poulter MO, Carlen PL. Hippocampal hyperexcitability in fetal alcohol spectrum disorder: Pathological sharp waves and excitatory/inhibitory synaptic imbalance. Exp Neurol. 2016 Jun;280:70-9.
5: Ramani M, Mylvaganam S, Krawczyk M, Wang L, Zoidl C*, Brien J, Reynolds JN, Kapur B, Poulter MO, Zoidl G, Carlen PL. Differential expression of astrocytic connexins in a mouse model of prenatal alcohol exposure. Neurobiol Dis. 2016 Jul;91:83-93.
Awards
Canada Research Chair (Tier I) - 2011
Supervision
Currently available to supervise graduate students: Yes
Currently taking on work-study students, Graduate Assistants or Volunteers: No
Available to supervise undergraduate thesis projects: Yes
Current Research
Project Area 1: Role of Electrical Synapses in Vision
Project Area 2: Role of Electrical Synapses in Neuronal Plasticity: From Genes to Function
Project Area 3: Development of Zebrafish Models of Neurological Disorders
Research Projects
Role of Electrical Synapses in Vision
Role: Principal Investigator
Year Funded: 2012
Duration: 5
Funded by: Natural Sciences and Engineering Research Council